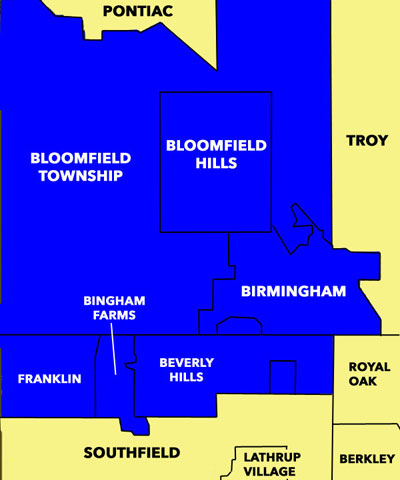 The Birmingham Bloomfield Area Democratic Club is a nonprofit organization acting as the official body of the Michigan Democratic Party in Birmingham, Bloomfield Hills, Bloomfield Township, Bingham Farms, Beverly Hills and Franklin Village.
Meetings and membership are open to anyone who supports advancing Democratic Party values, but voting membership is generally limited to dues-paying residents of these six communities. Membership dues are $15 per year. 
In-Person meetings are usually held at the Bloomfield Township Hall, 4200 Telegraph Road.
The BBA Dems Board of Officers include the Chair, Vice-Chair, Recording Secretary, Corresponding Secretary and two Trustees. Board elections are held annually, generally in January:
Chair: Presides over meetings and has other such duties as are usual to the office of Chairperson.
Vice-Chair: Assists the Chair in the discharge of their duties; temporarily assumes responsibilities of the Chair in their absence.
Treasurer: Keeps financial receipts and disbursements; handles the bank account & makes financial reports to the BB Dems. 
Recording Secretary: Keeps & perserves the books, documents, correspondence, records, effects & other BB Dems property.
Corresponding Secretary: Gives proper notifications of all meetings as well as of other events relevant to the BB Dems via email, website & social media.
Trustees: Ensure the other Officers comply with these Bylaws and generally that the BB Dems' operations are ongoing as normal.
Meetings generally follow this agenda:
Call to Order/Roll Call

Approval of Agenda

Approval of previous meeting Minutes

Officer Reports

Committee Reports

Old Business

New Business (including Guest Speakers)

Good & Welfare

Adjournment
2023 BBA Dems Executive Board:
Chair: Deborah Rosenman (incumbent)

Vice-Chair: Emery Pence

Treasurer: Libby Dzurka

Recording Secretary: Andrew Corey (incumbent)

Corresponding Secretary: Cynthia Shaw

Trustee: Juergen Wiesenberger

Trustee: Corinne Shoop (incumbent)
Welcome to the newly elected Oakland County Democratic Party Executive Committee Members representing our club:
Corinne Shoop

Debbie Rosenman

Lisa Peers

Nessa Feller

Richard Grinstein

Keri Zhao

Larry Lipton

Ralph Plumley

Mike Corbin